Road Potholes
I have been travelling around the St Albans district as I am very concerned at the condition of our roads following a very severe winter. There is a danger that people will get injured by falling into a pot hole and also damage to cars and vans.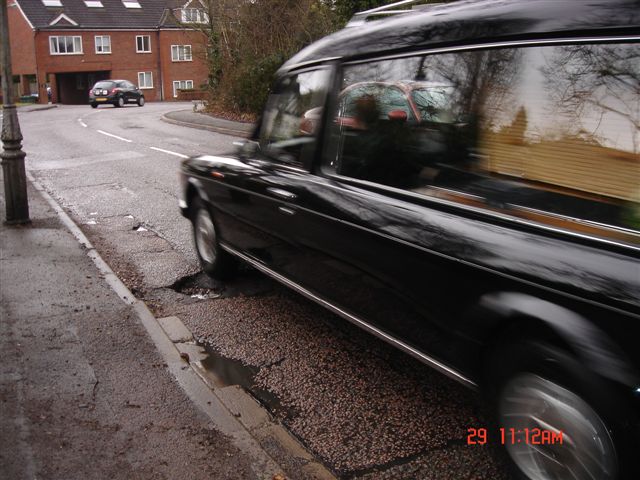 I have taken many photographs which I have sent to the Highways Department for them to take action and I have been assured by them that all the road reports I have submitted will be dealt with as a matter of urgency.

This part of Hertfordshire carries more traffic and double the number of HGV's compared to other parts of the country and suffer more because of this. The county also receives the lowest grant from Central Government of any council in the country.

But I am happy to say county has reserved an extra £6.3million for the upkeep of highways to deal with the problem and this will help them attend to the damaged roads and get our roads back into good condition.

So I have been working very hard on behalf of St Albans people to make things better.
Pothole 'killed' Brit soldier
Published: 29 Mar 2010 on THE SUN newspaper
A SOLDIER who survived a tour of duty in Afghanistan has been killed by a POTHOLE.
Captain Jonathan Allen, 29, was cycling home from his base when he swerved to avoid the 15ft-long 'crater' and collided with a lorry passing alongside him.

He suffered multiple injuries as he was crushed under the front wheels of the HGV and died at the scene on the A338 on Salisbury Plain, Wilts.

The gaping hole, a mile north of Tidworth, was filled in by Wiltshire County Council workmen on Friday — 36 hours AFTER the fatal accident.
http://www.thesun.co.uk/sol/homepage/news/campaigns/our_boys/2912059/Pothole-killed-Brit-soldier.html